United Kingdom:
The explanations below illustrate the various stages in the clothes supply chain, from upstream to downstream.
The impact of resources used in production:



Beginning with the first stage in the supply chain, from raw material to final product: the production of garments contributes 1/3 of the waste footprint; 3/4 of the carbon impact; and the water footprint.
Useful life of clothes:



Around 30 per cent of the average UK wardrobe's clothes are unused and worth a total of £ 1,000 per household, amounting to a whopping £ 30 billion worth across the UK. If wear clothing products up to an additional nine months, it will minimize waste, carbon and water emissions by about 20 % to 30%, and reduce resource costs by £5bn (20%).
Environmental impacts of laundry:



Laundry generates 1/4 of a carbon footprint for a household. If each household washed clothes at lower temperatures, less regularly and in larger loads, it would save £ 10 a year for each household and cut its footprint by 7%.
Reuse of clothing:



Currently, just 50 percent of clothing pieces are being reused, with 2/3 of them going abroad. Statistics, however, show that 2/3 of the UK population buy or earn second-hand garments, showing a desire to reuse them.
Landfilling:



Britons send 1/3 of their clothes to landfill that would otherwise raise £ 140 million for local authorities, charities, and other organizations.
But what about clothing brands themselves?
ZARA:
Global manufacturing includes the global distribution of raw materials, all parts, and finished goods. For a fully integrated supply chain, these characteristics are important. Zara, the major fashion retailer, is a prime example of a globally successful company. The process below tracks the regional integration of Zara's fashion production network. Zara is one of Inditex's major multinational apparel firms and is one of the biggest distribution organisations in the world. Zara itself has more than 2,000 strategically placed stores in 88 countries and its distribution hub is situated in Zaragoza (northern Spain). Inditex does not manufacture products but is the largest supplier to Zara in India, China, and Bangladesh. The latest figures show sales of 18.117 million euros. The latest estimates show revenue exceeding EUR 18.117 million, with Europe (excluding Spain) responsible for 46% of revenues. It also has 6,683 shops in 88 markets; 137,054 workers in 2014, and a net profit of €5,510 m.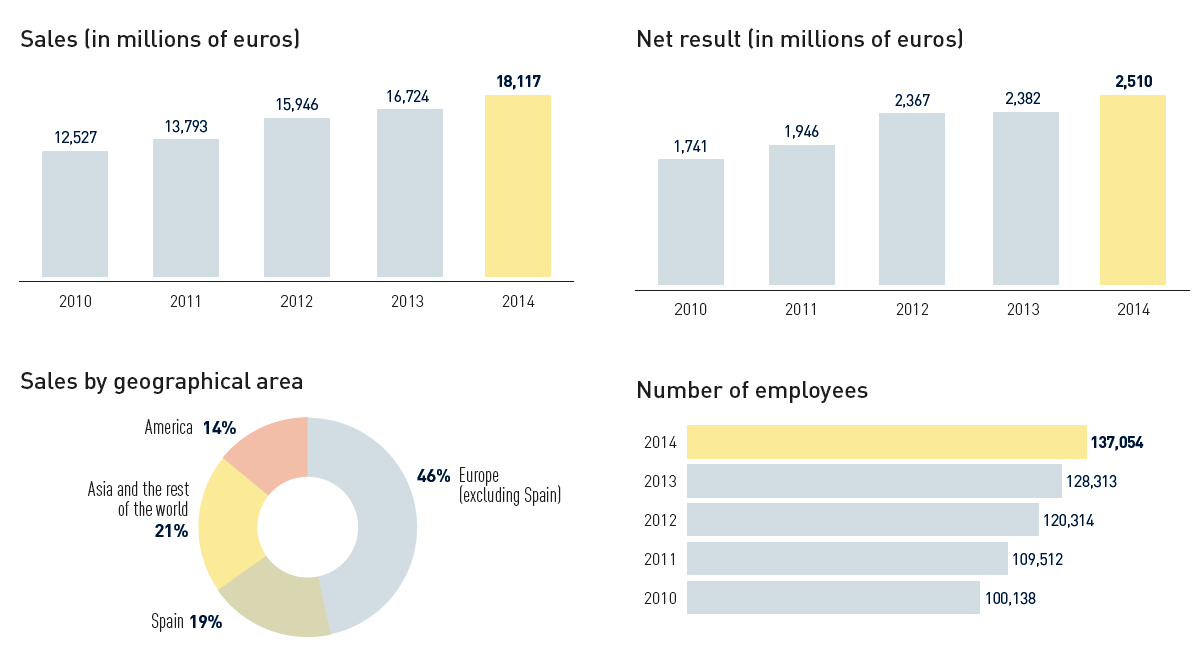 Relevant data of Inditex
These shops receive merchandise twice a week including new products customized to local needs. This is because intensive capital-intensive and value-added stages are performed internally (designing, buying raw materials, cutting, ironing, marking, delivery, etc.) and less value-added activities are outsourced, such as sewing and labor-intensive jobs. The following figures show daily weekly moves of cargo to and from Zaragoza airport.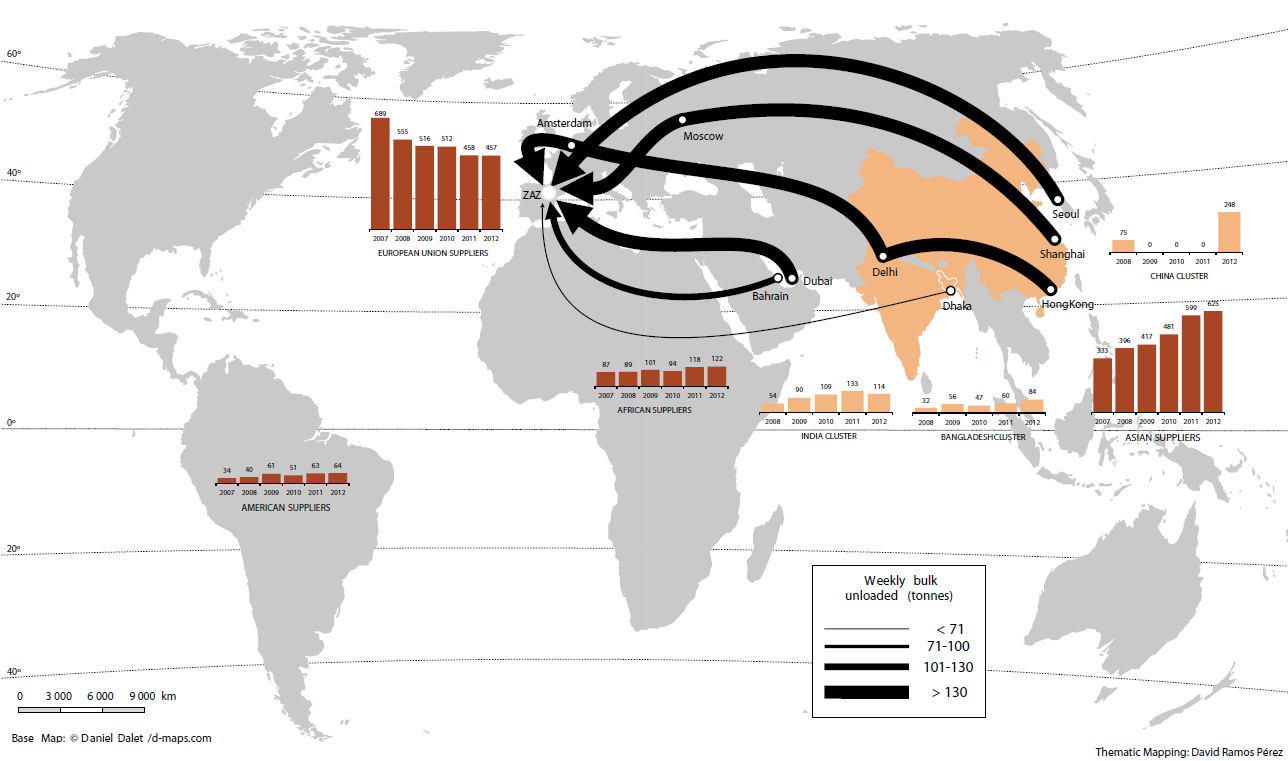 Weekly cargo received regularly at the Plataforma Europa in flights to Zaragoza airport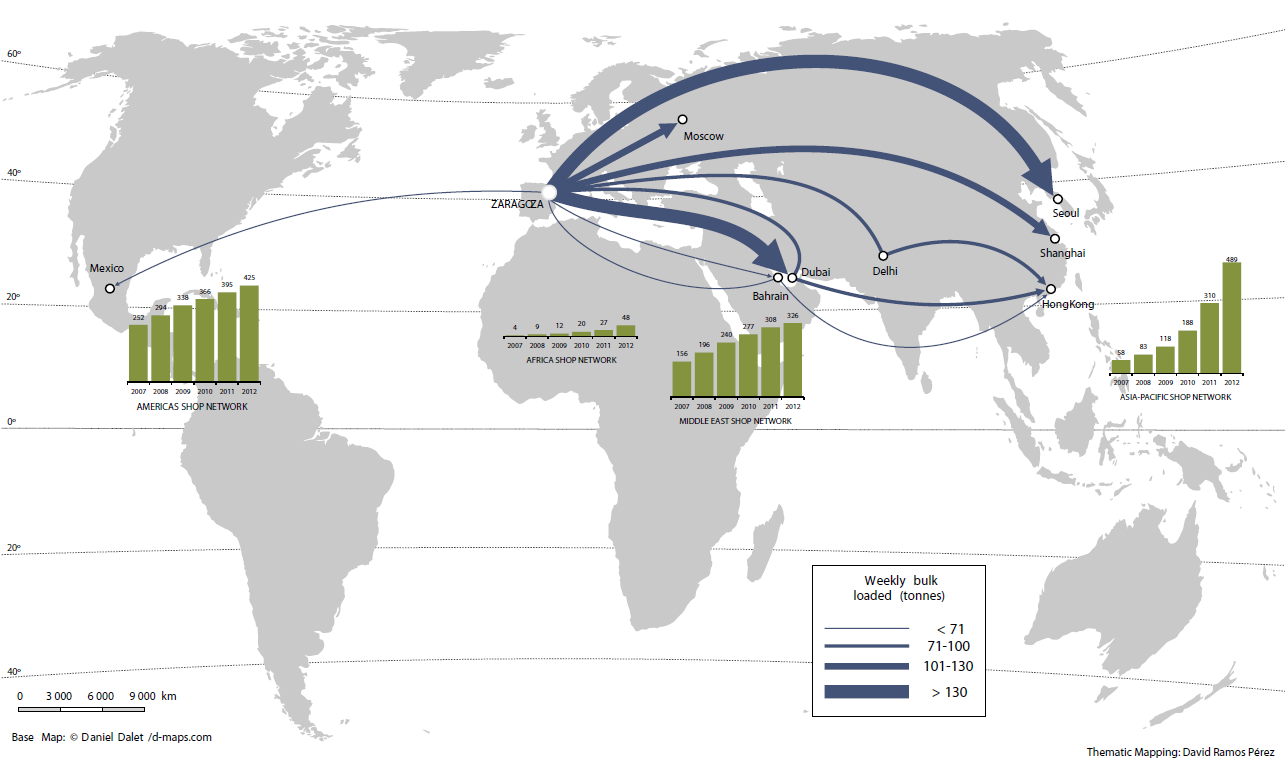 Weekly cargo sent regularly at the Plataforma Europa in flights from Zaragoza airport
But what about the other major fashion stores such as Nike, Adidas, H&M, and Marks and Spencer? Now you can imagine the amount of freight movement that is happening only for clothes all over the world.
References:
The Waste Management & Recycling Blog. (2016). Fast fashion & the destruction of developing countries – The Waste Management & Recycling Blog. [online] Available at: https://www.forgerecycling.co.uk/blog/fast-fashion/.
‌